Full Text
Director:
Patients with autosomal dominant polycystic kidney disease (ADPKD) have a higher incidence of intracranial aneurysms (ICA), estimated at approximately 8%–12%.1 The test of choice for the detection of ICA is brain magnetic resonance imaging (MRI), and in case of contraindication of MRI, computed tomography angiography (CT angiography) can be performed. A ruptured ICA can lead to a subarachnoid hemorrhage (SAH). This is a serious complication with a mortality rate of 10–20% and a morbidity of up to 50%.2 The risk of rupture is mainly correlated with the size of the AIC, in addition to the location in the cerebral circulation and the morphology of the aneurysm. Treatment should be decided by a multidisciplinary team and ICA can be evaluated if they are greater than 7 mm, located in areas of high risk presenting saccular morphology in young patients with a family history of SAH.3
The most determining risk factor for having an ICA is a positive family history for ICA and/or SAH, which is associated with a higher prevalence as compared to those without a previous history.4,5 Screening for ICA is recommended in patients with ADPKD and a family or personal history of SAH and/or ICA, clinical symptoms suggestive of aneurysm, work or activity in which loss of consciousness can be fatal, preparation for major elective surgery or extreme anxiety of the patient in relation to the risk of having an aneurysm.6,7 Up to now, the indication for screening in low-risk patients is unclear, but it is known that about 80% of cases of rupture of ICA in patients with ADPKD are observed in patients without family history.8 Recently, it was demonstrated the cost-effectiveness of performing ICA screening in all patients with ADPKD.9,10
We present a cross-sectional study in which all patients with the diagnosis of ADPKD in the Autonomous Community of Cantabria until 02/01/2019 were selected. Data were collected regarding the patient situation, the cause of death in those deceased patients, the reports of the first brain imaging test performed (MRI or brain CT angiography), the risk factors for the development of ICA and the size of the aneurysm in those patients in whom at least one ICA was detected.
There were 424 patients included, with a mean age of 58.1 ± 16.6 years. Patients who died were 131 (30.9%) with a mean age of 67.5 ± 10.7 years. There were 3 patients with death caused by SAH secondary to ruptured aneurysm (2.3% of the total number of deaths), and the mean age at the time of death was 67.7 ± 7.7 years. In 154 patients (36.3%), a MRI or brain CT angiography had been performed. In 151 of these patients the test was performed as a screening test, and in 3 it was performed after the aneurysm ruptured without prior screening. The diagnosis of at least one ICA occurred in 37 patients, representing 24.0% of patients with imaging tests and 8.7% of all patients with ADPKD in our study. A 14.7% of the patients diagnosed with ICA required treatment by embolization.
In patients with a brain imaging test performed as screening, 26.5% had risk factors for the development of aneurysms: 57.5% had a family history of ICA/subarachnoid hemorrhage secondary to ruptured ICA, 37.5% had symptoms that could suggest ICA and 5.0% had other risk factors.
The percentage of brain imaging tests performed as screeningin patients without risk factors for the development of ICA has increased in recent years in our center (Fig. 1). No statistically significant differences were found in the percentage of ICA detected with MRI or brain CT angiography performed as screening in the periods 2003–2010 and 2011–2018 (25.0% and 21.5% respectively, p = 0.752) ; despite the fact that the percentage of imaging tests performed as screening for ICA in patients without risk factors was higher in recent years. Of the patients with a diagnosis of ICA after screening, those with risk factors had a higher percentage of ICA with a diameter ≥ 7 mm compared to patients without risk factors; this result being not statistically significant, as shown in Table 1.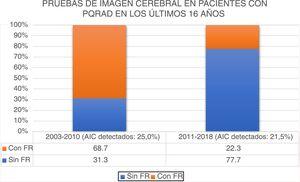 Figure 1.
Brain imaging tests performed as screening in patients with ADPKD in the last 16 years. Percentage of brain imaging tests during the periods 2003–2010 and 2011–2018. The percentage of ICAs detected with MRI or CT angiography was 25.0% in the 2003–2010 period and 21.5% in the 2011–2018 period (p = 0.752).
ICA: intracranial aneurysms; RF: risk factors for the development of intracranial aneurysms.
(0.09MB).
Table 1.
Size of ICA detected by screeningin patients with ADPKD.
 
NO-risk factors of ICA 
YES-risk factors of ICA 
p 
ICA diameter ≥ 7 mm

a

 
13.0% 
27.3% 
0.309 
In our patients, presenting risk factors for the development of ICA was not significantly associated with a higher prevalence of ICA (OR 1.4, 95% CI 0.6–3.3, p = 0.380).
Therefore, the prevalence of ICA in our series is higher than that described in the literature. Due to the high morbidity and mortality of this complication and given the results of our study, universal ICA screening should be considered in all patients with ADPKD at the beginning of follow-up.
Please cite this article as: López del Moral Cuesta C, Mazón Ruiz J, Fernández Fresnedo G. ¿Debería realizarse screening de aneurismas intracraneales a todos los pacientes con poliquistosis renal? Nefrologia. 2022;41:702–703.