Full Text
We present the case of a 63 year-old hypertensive and obese woman. Her past medical history was remarkable for degenerative osteoarticular disease, Sjogren syndrome and abusive use of non-steroid anti-inflammatories (NSAIs). She was treated by her rheumatologist with daily Methotrexate and Rituximab 1g every 6/6 months. She was referred to our Nephrology Department in 2011 due to persistent hematoproteinuria. The autoimmune study was positive for ENA's and anti SSA (consistent with Sjogren syndrome). At that time, renal biopsy showed chronic interstitial nephritis possibly secondary to Sjogren syndrome or NSAIs. She was started on corticotherapy and ACE inhibitor. Due to iatrogenic diabetes mellitus, corticotherapy was stopped after 2 months of treatment. During the following seven years, she maintained normal renal function and sub-nephrotic proteinuria (<1g/24h). In 2018 despite having no other symptoms than sicca syndrome, laboratory tests revealed a worsening of proteinuria levels to 13,5g/24h, without hematuria. Viral serologies were negative, monoclonal gammopathies were excluded and serum complement levels were normal. Autoimmune study showed the same as previously known (Table 1). A new renal biopsy was performed showing mesangial expansion with non-argirophilic and Congo red negative amorphous material. Immunofluorescence showed strong mesangial staining for IgG, with C3 complement not really stained. Both light chains were stained, with kappa having a higher intensity compared to lambda. Although immunofluorescence staining for DNAJB9 was not tested, electron microscopy suggested Fibrillary Glomerulopathy showing numerous fibrillar deposits in the mesangial matrix and randomly arranged fibrils which were thicker than amyloid ones (Figure 1). The patient was screened for malignancy, monoclonal gammopathy and HCV infection, with no positive findings. The immunosuppressive therapy dosage was increased (Rituximab 2g 6/6 months) and the patient had a clear improvement of proteinuria levels dropping to 6g/24h maintaining normal renal function after 1 year.
| Analysis  | Result  |
| --- | --- |
| Hg  | 11,5 g/dl  |
| White blood cell and platelet count  | Normal  |
| sUrea  | 38 mg/dl  |
| sCreatinine  | 1.1 mg/dl  |
| Albumin  | 3.6 g/dl  |
| Protein electrophoresis  | Normal pattern  |
| Igs A, G, M and Free light chains  | Normal  |
| C3 and C4 complement level  | Normal  |
| ANA; Anti- dsDNA  | Negative  |
| ENA's; anti SSA  | POSITIVE  |
| ANCA; Anti-GBM  | Negative  |
| Viral serologies (HIV, HCV, HBV)  | Negative  |
| Urine analysis  | Proteinuria +; P/C ratio 13,5g/g  |
Hg- Hemoglobin; s- serum; Igs- Immunoglobulins; ANA- Antinuclear Antibody; Anti-dsDNA- Anti-double stranded DNA; ENAs- Extractable Nuclear antigen Antibodies; anti SSA- anti Sjögren's Syndrome related antigen A Autoantibodies; ANCA- Anti-Neutrophil Cytoplasmic Antibody; Anti-GBM- Anti-Glomerular Basement Membrane Antibody; HIV- Human Immunodeficiency Virus; HCV- Hepatitis C Virus; HBV- Hepatitis B Virus; P/C ratio- urinary Protein to Creatinine ratio.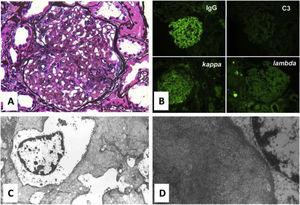 Figure 1.
A - Periodic acid-Methenamine Silver stain showing mesangial expansion on light microscopy (magnification x 400); B – Immunofluorescence: strong mesangial staining for IgG, light staining for C3 complement. Both staining for light chains (Kappa and Lambda); C - Electronic microscopy (magnification x 6000): numerous fibrillar deposits in the mesangial matrix and randomly arranged fibrils; D – Previous image magnified.
(0.71MB).
Fibrillary glomerulonephritis is a rare disorder, representing less than 1 percent of native kidney biopsies. 1 It is a nonamyloid fibrillary glomerular deposition disease, that result from deposits derived from immunoglobulins. The pathognomonic changes found in the renal biopsy are seen on electron microscopy and with immunofluorescence staining for DNAJB9. The light microscopic findings are nondiagnostic and variable. The fibrils of fibrillary GN are usually randomly arranged, larger but otherwise ultrastructurally similar to amyloid fibrils. In contrast these are Congo red negative and Stain for IgG and C3, usually with both light chains.1,2 It can be differentiated from immunotactoid glomerulopathy by identification of the protein DnaJ heat shock protein family (Hsp40) member B9 (DNAJB9) in the glomeruli.3 Furthermore, the fibrils in fibrillary glomerulonephritis are randomly arranged, whereas microtubules observed in immunotactoid glomerulopathy form parallel bundles.4 Most cases of fibrillary glomerulonephritis are idiopathic. However, it has been associated with malignancy, monoclonal gammopathy, autoimmune disease and infections in 30 to 50 percent of cases.4 Association with HCV or HIV infection also has been reported. The prognosis is not favorable with approximately one-half of the patients developing end-stage renal disease within two to six years. 1,5,6 Fibrillary glomerular disease is difficult to treat and there are no randomized controlled trials to guide optimal therapy. Patients who have a possible secondary cause may benefit from treatment of the underlying disorder. Patients with idiopathic disease usually respond poorly to corticosteroids and cytotoxic drugs. However, several reports suggest that they may respond to rituximab. 7 In cases where proteinuria decreases without achieving complete remission, it might be helpful to measure the patient's B cell counts by flow cytometric analysis in order to evaluate the need for redosing rituximab.
We report a rare case of nephrotic proteinuria due to fibrillary glomerulonephritis in a patient with Sjogren Syndrome. As many patients have a secondary cause, a careful search should be part of the routine evaluation of this disorder. Despite no specific measure has shown to be beneficial, the patient had a favorable clinical course after increasing immunosuppressive therapy, without progression to renal failure. Therapy directed against the underlying disorder might be the best option to reduce progression of kidney disease. Nevertheless, the therapeutic approach in fibrillary GN remains challenging.
Financial support
None to declare.
Conflict of interest statement
The authors have no conflicts of interest to declare.
Copyright © 2021. Sociedad Española de Nefrología